Veterinary Nurse- Yasmin BSc (Hons) RVN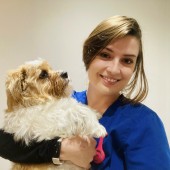 Yasmin graduated from Edinburgh Napier University with a BSc (Hons) in Veterinary Nursing in June 2021. She completed all of her university nursing placements at C&G, so knows most of the patients well!
Yasmin originally comes from Yorkshire, but is glad to call Glasgow home now!
Yasmin is owned by a wee cross-breed named Pip. He comes to work with Yasmin most days, but mostly stays in the office as he's not too fond of other dogs!
See all Staff | May 19, 2021 | 12:35 pm