Winter Newsletter 2018
C&G NEWSLETTER
WINTER
2018
CHRISTMAS OPENING TIMES
Friday 21st Dec- OPEN as normal
Saturday 22rd Dec- OPEN 9am-1pm
Sunday 23rd Dec- CLOSED
Monday 24th Dec- OPEN 9am- 3pm
Tuesday 25th Dec- CLOSED
Wednesday 26th Dec- CLOSED
Thursday 27th Dec- OPEN 9am-6pm
Friday 28th Dec- OPEN 9am-6pm
Saturday 29th Dec- OPEN 9am- 1pm
Sunday 30st Dec- CLOSED
Monday 31st Dec- Open 9am-3pm
Tuesday 1st Jan- CLOSED
Wednesday 2nd Jan- CLOSED
From Thursday 3rd Jan onwards- normal opening hours.
In case of emergency please contact either:
VETS NOW (Charing Cross)
0141 332 3212
Or
SMALL ANIMAL HOSPITAL (Bearsden)
0845 850 2080
STAFF NEWS
Emma: Emma joined us at the end of June, and works part time on reception. She normally works Monday, Tuesday, Thursday and Friday mornings, but you may see her at other times. Emma previously worked as an officer for the Scottish SPCA, and brings with her a wealth of knowledge.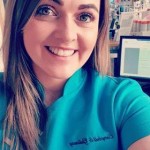 Sally: The King's will become a family of five in Spring 2018, as Sally, Ross and cats Erin & Alba welcome a baby in March. Sally plans to work until the end of February (we'll keep her on desk duties, don't worry!) and will return part-time in 2020. Congratulations to the Kings!
Zoe: Zoe welcomed a new member of the family in September- a kitten rescued from Greece. Nera adopted them whilst on holiday this summer, and after a short stay at a Greekshelter, she made the long journey to the UK.
Zoe is awaiting the results of her final nursing exams. Keep your fingers crossed!
Everyone else (Karen, Rhona, Kirsten and Dawn) have nothing exciting to share, although Dawn says THANK YOU for all the messages and presents for her 30th birthday!
COUGH & COLD MEDICATIONS
We're at the point of the year when everyone and their auntie has the cold or flu. Please remember that not all of the medications commonly prescribed by your GP are suitable for your pet. In fact some of them can be dangerous for our furry friends. These include some of the most commonly prescribed drugs for treating the common cold or nasty flu.
Paracetamol/ Ibuprofen/ Aspirin– Although we sometimes use a preparation of aspirin or paracetamol in cats or dogs, these are in such small formulations that are appropriate for the animal in question. Never give your pets any of your prescription or over the counter drugs unless advised to by a veterinary surgeon. If any of these drugs are ingested pets can develop intestinal problems, loss of appetite, vomiting and diarrhoea, bleeding disorders and even kidney or liver failure.
Decongestants– The ingredients ephedrine, phenylephedrine or pseudoephedrine are found in common decongestants. These ingredients can cause vomiting, lethargy and hyperactivity.
Antihistamines– Although some antihistamines are prescribed by veterinary surgeons, others are not appropriate for pets. They can cause vomiting, drooling, inco-ordination, ataxia, lethargy, tremor, depression, hyperthermia, fast heart rate or weakness.
Cough suppressants– for example codeine. They can cause drowsiness, lethargy, depression, ataxia or vomiting.
Essential oils– these are present in the vapour rubs or drops which can be added to bedding or hot water. These oils can cause aspiration pneumonia, retching, coughing or vomiting. If your pet comes into contact with these oils you should wash their fur with a mild detergent so that the oils cannot be ingested during grooming.
Expectorants– these loosen mucus, so it can be coughed up, and have a low toxicity. Signs include vomiting or lethargy.
Stimulants– such as caffeine can cause heart or nervous system signs if ingested in large quantities.
Please store all medications out of your pet's reach to be on the safe side!
Please do not give your pet any medication that has not been prescribed by a Veterinary Surgeon.
If you think your pet has ingested some of your medication please contact us immediately (or Vets Now if we are closed) and let us know the name and strength of the medication.
CHRISTMAS FOODS TO AVOID
We all like to treat our families at Christmas, and that includes our pets. Many owners admit to feeding their pets Christmas dinner. So what harm can it do? We see an increasing amount of stomach upsets over the holiday period. The food on our dining tables (or under the tree) can cause vomiting, diarrhoea or worse.
Foods to avoid:
Bones

Chocolate

Christmas pudding

Grapes, raisins etc.

Peanuts

Onions, garlic etc.

Mouldy food e.g. blue cheese

Stuffing

Onion gravy

Alcohol
Poisonous Plants:
Mistletoe

Holly & Ivy

Poinsettia

Non-seasonal flowers e.g. lilies
Other potential hazards:
Candles

Silica gel

Wrapping paper, tinsel, ribbon, string

Small decorations

Anti-freeze
If you suspect your pet has eaten something bad…
Phone us immediately!

Bring the product's packaging with you if possible.
PET TRAVEL SCHEME
Brexit is causing issues for our well travelled pets. Currently we do not know which deal will be made and how this will affect pet travel, but the government have advised that in the case of a "no deal" we should be prepared to be named an "unlisted country". In that case any pet wishing to travel after 29th March 2019 should abide by the following rules:
You must get your dog, cat or ferret microchipped and then vaccinated against rabies before it can travel. Your pet must have a blood sample taken at least 30 days after the rabies vaccination. You'll need to talk to your vet about whether you need a rabies vaccination or booster before this test.
The results of the blood test must show that the vaccination was successful (Your pet must have a rabies antibody level of at least 0.5 IU/ml).
You must wait 3 months from the date the successful blood sample was taken before you travel.
You must take your pet to a Official Veterinarian (OV), no more than 10 days before travel to get a health certificate.
If there's no deal, pet passports issued in the UK would not be valid for travel to the EU.
If you have a current Pet Passport, and wish to travel after 29th March 2019, please speak to one of our RVNs or Vets at least four months before your expected travel date.
For further information visit: https://www.gov.uk/guidance/pet-travel-to-europe-after-brexit?fbclid=IwAR3aJJPrF8R7_sftEJFuiVvBZjNwdphDTYJj-H1OlMMrqShi7aBVX0lzmIE
ADVERSE WEATHER
Unfortunately, we had to close for one day during the bad snowstorm in March as none of the staff could travel to the practice. Although we were worried about our patients, we couldn't risk travelling to the surgery. On the day we managed to contact all of the previously booked appointments and re-schedule. We apologise for anyone who was caught short by our closure.
We hope the weather doesn't affect the opening of the practice this winter, but snow has been forecast. If the event occurs we will be able to triage any illness or accident (within reason) by telephone, or email. We ask that you keep a good supply of your pet's prescription medication or diet over the winter period to be on the safe side.
If in doubt please check the practice Facebook page for bad weather updates: https://www.facebook.com/campbellandgallowayvets
DOG SHOW
Our annual C&G Dog Show in aid of Scottish SPCA was held on Saturday 2nd June, in Elder Park during the Govan Fair festivities. As usual we had an excellent turn out, and the weather remained on our side!
Dogs were entered in the following categories:

1- "Most like owner"
2- "Best trick"
3- "Golden Oldie"
4- "Fabulous Fella"
5- "Loveliest Lady"
6- "Best Junior Handler" Kids 5-14 years old
7- "Waggiest Tail"
8- Egg & Spoon Race (with dog on lead)
9- "Best Fancy Dress"
10- "Best Biscuit Catcher"
There were also be prizes for "Best in Show" and "Reserve Best in Show".
New for 2018 was a small agility course that we hope to add into the show next year. A few brave dogs took part in the trial run (and one or two scaredy cats!)
Best in Show- Lexi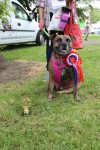 Reserve Best In Show- Daisy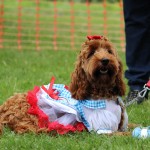 You can view the rest of the photos from the day:
https://www.facebook.com/campbellandgallowayvets/photos_albums
CBEEBIES
We had an exciting day in August as Cbeebies filmed their TV programme "Ferne & Rory's Vet Tales" at the practice. Our patient, Flora, was the main star, but you might spot a few familiar faces throughout the episode.
It aired on 10th December, but you can still find it on BBC iPlayer.
https://www.bbc.co.uk/iplayer/episode/m0001jct/ferne-and-rorys-vet-tales-series-2-16-flora-the-dog
HALLOWEEN COMPETITION
The winners of our annual Halloween competition were:
Sam the Lion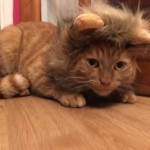 &
Harry the Dinosaur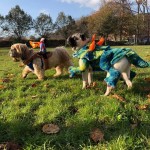 WELL DONE!
GOVAN LOVES CHRISTMAS
On Wednesday 5th December we attended the annual "Govan Loves Christmas" event at Govan cross. The afternoon offers competitions, stalls, carnival rides (free), a concert, a disco and the switching on of the local Christmas lights. We held a raffle for the Scottish SPCA and managed to raise £146!
The dog, along with the NSPCC mascot, were asked to switch on the Christmas lights.
The C&G dog had a great night, and even had a go on a few of the carnival rides (it wasn't Sally this time, don't worry!) We're excited for next year's event already!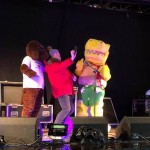 PETPLAN AWARDS
We have been nominated in several categories of the Petplan Vet Awards 2019- thank you so much! We've already received nomination certificates for "Practice of the Year", "Vet of the Year" and "Vet Nurse of the Year"
You can submit nominations until January 2019, with the awards ceremony normally being held in the spring.
If you would like to nominate please visit: https://www.petplan.co.uk/about-petplan/vets/awards/
REPEAT PRESCRIPTIONS
Please remember to order your pet's repeat medications and prescription diet in plenty of time before the holidays. We will receive a delivery between Christmas & New Year for those emergency items. The last date for ordering prescriptions/ diets before Christmas is Thursday 20th December.
Phone on 0141 445 6869 or email campbellandgallowaynews@hotmail.co.uk to place an order.
We'd like to thank all of our lovely clients for their continued support in 2018, and a massive thank you for all of the thoughtful presents we have received.
Happy Holidays from everyone at Campbell & Galloway Vets!!!
CAMPBELL & GALLOWAY
VETERINARY SURGERY
TEL: 0141 445 6869
campbellandgallowaynews@hotmail.co.uk
www.campbellandgallowayvets.co.uk
www.facebook.com/campbellandgallowayvets
https://www.instagram.com/candgvet/
See all News, Newsletters | December 21, 2018 | 10:45 am