Winter Newsletter 2017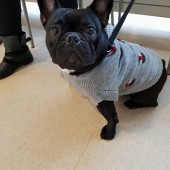 WINTER NEWSLETTER 2017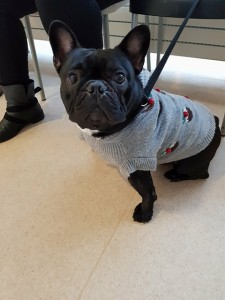 (Apollo, the wee Christmas pudding!)
CHRISTMAS OPENING TIMES:
Friday 22nd Dec- OPEN as normal
Saturday 23rd Dec- OPEN 9am-1pm
Sunday 24th Dec- CLOSED
Monday 25th Dec- CLOSED
Tuesday 26th Dec- OPEN 9am-1pm
Wednesday 27th Dec- OPEN 9am-6pm
Thursday 28th Dec- OPEN 9am-6pm
Friday 29th Dec- OPEN 9am-6pm
Saturday 30th Dec- OPEN 9am- 1pm
Sunday 31st Dec- CLOSED
Monday 1st Jan- CLOSED
Tuesday 2nd Jan- OPEN 9am-1pm
From Wednesday 3rd Jan onwards- normal opening hours.
In case of emergency please contact either:
VETS NOW (Charing Cross)
0141 332 3212
Or
SMALL ANIMAL HOSPITAL (Bearsden)
0845 850 2080
Staff News
There's not much news from the C&G team, we've all been too busy working!
Zoë has passed all of her college exams so far, and is due to sit her final exams next summer. But first she has to run the London Marathon in April! She ran the Belfast Marathon (her first) last year, and is determined to better her time. She's running for Operation Smile.
Nikki has just completed her last ever placement at C&G Vets as a Student Veterinary Nurse. She'll be back in for a visit now and then. We wish her all the best with her studies!
We have a new nursing student starting in January. She's in her first year at Edinburgh Napier University. We're sure she'll settle in well.
C&G Dog Show
We held our (now annual) Dog Show at Elder Park on Saturday 16th September.
Dogs were entered in the following categories:
1- "Most like owner"
2- "Best trick"
3- "Golden Oldie"
4- "Fabulous Fella"
5- "Loveliest Lady"
6- "Best Junior Handler" Kids 5-14 years old
7- "Waggiest Tail"
8- Egg & Spoon Race (with dog on lead)
9- "Best Fancy Dress"
10- "Best Biscuit Catcher"
We had far more participants than expected. It was a great (but showery) day!
We raised £402 from entry fees and raffle tickets. Thank you to everyone that took part or donated!
The dog show will be back in June 2018, so get practising for the catwalk!
We are waiting for a representative from Scottish SPCA to collect the funds from all 2016 & 2017 fundraisers.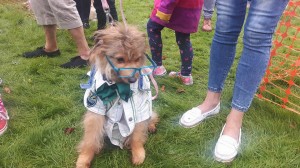 Tippy the geek!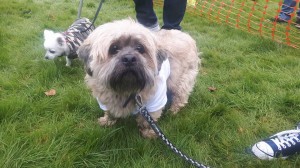 Judge Nigel!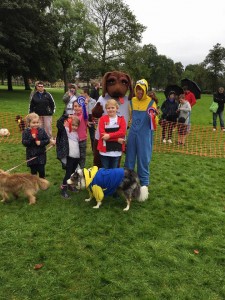 The winners!
For more photos check out our facebook: www.facebook.com/campbellandgallowayvets
Halloween Competition
We had so many excellent entries for the annual C&G Halloween competition (a few reluctant!)
The winners were…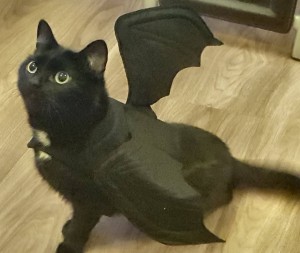 Precelka, the bat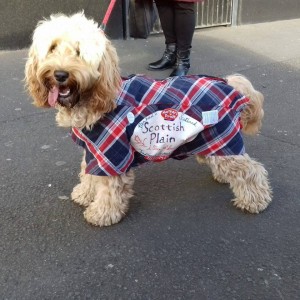 Doris, the loaf of bread
For more photos check out our facebook: www.facebook.com/campbellandgallowayvets
Govan Loves Christmas
The C&G staff attended the annual "Govan Loves Christmas" event on Wednesday 6th December. We took along our pin-the-tail-on-Huxley board and C&G Selfie Frame.
For photos check out our facebook: www.facebook.com/campbellandgallowayvets
The C&G staff baked some dog & cat biscuits to sell at the event. We raised just under £100 for the Scottish SPCA.
And as usual the C&G Dog got up to all sorts of mischief!
Christmas Dangers 
Vets Now see a 40% increase in calls & visits over the festive period. Make sure your pet isn't one of them! The dangers that could ruin your pet's Christmas (and yours!) include:
FOOD
Chocolate- Chocolate contains an ingredient which is poisonous to dogs- theobromine.
Christmas pudding & mince pies- these items contain grapes, raisins, currants and sultanas- all of which are toxic to dogs. And alcolhol!
Macadamia nuts- if eaten, can cause weakness, tremors, vomiting and hyperthermia.
Onions- Onions, and foodstuffs containing onion i.e. stuffing are banned! They can cause GI irritation, and further issues of eaten in large quantities.
Alcohol- Alcohol can leave pets with more than a hangover- vomiting, diarrhoea, difficulty breathing, tremors and much worse.
Artificial sweeteners- Xylitol is commonly found in human foods including some cakes, peanut butter. Consumption can lead to liver failure, low blood sugar and worse.
Blue cheese- Blue cheese contains Roquefort C, which dogs are sensitive to.
Cooked bones- cooked bones splinter easily, and can pierce the GI tract or cause an obstruction.
Mouldy foods- toxins in mouldy food can cause vomiting or diarrhoea.
DECORATIONS
Christmas tree- Pine needles can GI upsets- vomiting, diarrhoea or even perforate the GI tract.
Tinsel- Tinsel can cause a blockage in the GI tract or a linear foreign body (which is dangerous).
Baubles- Glass- shards of broken baubles can cut paws, gums or GI tract if eaten. Salt dough- consumption can cause salt toxicity; signs include vomiting, diarrhoea or seizures.
Fairy lights- Fairy lights can cause an electric shock if chewed. We advise using an extension cord that will shut off automatically if damaged.
PLANTS
Poinsettia, mistletoe, holly & ivy- these plants are mildly toxic. Signs of consumption include vomiting, diarrhoea and drooling. Keep these plants out of reach, and you won't have anything to worry about!
Lillies- Lillies are extremely toxic and can cause convulsions and are sometimes fatal when eaten.
Potpourri- Potpourri smells great, although doesn't taste great! Consumption can cause GI signs- vomiting or diarrhoea, which could last for days.
PRESENTS
Toys- pets will chew on and swallow small toys, or toy parts. Keep small items out of reach.
Batteries- Ingestion of batteries can cause burns or heavy metal poisoning.
Wrapping paper- Wrapping/ crepe paper is not poisonous but consumption of large amounts can cause an obstruction in the GI tract.
Silica gel- also non-toxic, but can cause a blockage in the GI tract.
If in doubt keep the item out of reach.
Remember, we're back open on Boxing Day from 9am- 1pm for the non-emergency emergencies!
Petplan Awards
We have been nominated in several categories of the Petplan Vet Awards 2018- thank you so much! We've already received nomination certificates for "Practice of the Year", "Vet of the Year" and "Vet Nurse of the Year"
You can submit nominations until January 2018, with the awards ceremony normally being held in the spring.
If you would like to nominate please visit: https://www.petplan.co.uk/about-petplan/vets/awards/
Puppy Party
We've held a few puppy parties this year.
It's so nice to see the "party guests" coming to the practice as adult dogs- they are usually very chilled and happy to be here.
Our new and improved (for 2018) puppy party will be back towards the end of January 2018. If your puppy is under 6 months old and wishes to attend phone Sally on 0141 445 6869 or email campbellandgallowaynews@hotmail.co.uk
Hope to see your puppy there!
Repeat Prescriptions
Please remember to order your pet's repeat medications and prescription diet in plenty of time before the holidays. We will receive a delivery between Christmas & New Year for those emergency items. The last date for ordering prescriptions/ diets before Christmas is Thursday 21st December.
Phone on 0141 445 6869 or email campbellandgallowaynews@hotmail.co.uk to place an order.
We'd like to thank all of our lovely clients for their continued support in 2017, and a massive thank you for all of the thoughtful presents we have received.
Happy Holidays from everyone at Campbell & Galloway Vets!!!
CAMPBELL & GALLOWAY
VETERINARY SURGERY
TEL:  0141 445 6869
campbellandgallowaynews@hotmail.co.uk
www.campbellandgallowayvets.co.uk
www.facebook.com/campbellandgallowayvets
See all News | December 21, 2017 | 2:08 pm