Winter Newsletter 2019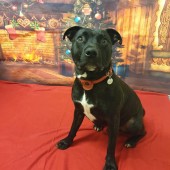 Christmas Opening Times:
Monday 23rd December: OPEN as normal (9-6:30pm)
Tuesday 24th December: OPEN 9-5pm
Wednesday 25th December: CLOSED
Thursday 26th December: CLOSED
Friday 27th December: OPEN as normal (9-6pm)
Saturday 28th December: OPEN as normal (9-1pm)
Sunday 29th December: CLOSED
Monday 30th December: OPEN as normal (9-6:30pm)
Tuesday 31st December: OPEN 9-5pm
Wednesday 1st January: CLOSED
Thursday 2nd January: CLOSED
Friday 3rd January: OPEN as normal (9-6:30pm)
Saturday 4th January: OPEN as normal (9-1pm)

If you have an emergency out with these hours please contact:
Vets Now (Charing Cross) on 0141 332 3212
Or
Glasgow University Small Animal Hospital (Bearsden) on 0845 580 2080

Hope you all have a Merry Christmas and a happy new year!!!!
Staff News:
The past few months have been exciting at Campbell & Galloway! Here's a rundown of events:
Firstly, RVN Sally gave birth to baby Daniel in March. Daniel's the happiest wee boy, and loves animals already. Although Erin & Alba (Sally's cats) don't love him quite as much! Sally returns to work part time in January.
Nikki, our previous nursing student, has been covering Sally's maternity leave, and is sticking around for the time being. Nikki graduated from Edinburgh Napier University in July 2019 with a BSc (Hons) in Veterinary Nursing. She's adjusting to life as a RVN well!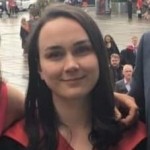 Zoe also qualified this year, becoming a Registered Veterinary Nurse in November. Look out for her shiny new badge!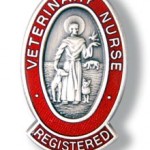 We had another new qualification. Emma qualified with a OCN Level 3 Dog Grooming Diploma. She's grooming from C&G when she's not on reception. Check out her Facebook (https://www.facebook.com/emmalousdoggydoos/) and Instagram (https://www.instagram.com/emmalousdoggydoos/) for her doggy make overs! Contact her through her pages or via the practice for bookings or more information.
Check out her transformation of our patient Rufus!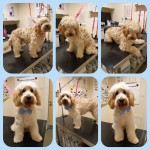 Karen, Rhona, Kirsten and Dawn have nothing new to report. Although Dawn is due to finish her further qualification in 2020, so watch this space, and Rhona adopted a wee staffy from SSPCA in early summer, so you might see a new dog roaming around the practice.
C&G Dog Show
We held our annual dog show in June. We had entrants in the following categories:

1. Most Like Owner
2. Best Trick
3. Golden Oldie
4. Fabulous Fella
5. Loveliest Lady
6. Best Junior Handler (5-14 years)
7. Waggiest Tail
8. Best Biscuit Catcher
9. Best Costume
10. Greatest Dancer
With the first, second and third in each category receiving a rosette and prize. We also had trophies, rosettes and prizes for the Reserve Best in Show and Best in Show. In true C&G style we rounded the afternoon off with our famous Egg & Spoon Race! All the photos can be found: https://www.facebook.com/campbellandgallowayvets/media_set?set=a.2595941613783270&type=3
Our Reserve and Best in Show winners!
We donated the £223.24 raised to the SSPCA!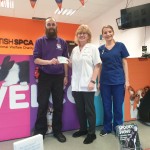 Govan Loves Christmas
We attended the annual 'Govan Loves Christmas' event on 4th December, raising money for the Scottish SPCA by raffling hampers. The C&G dog was allowed to repeat last year's highlight by switching on the Christmas lights, alongside Clyde 1's George Bowie and some of the other mascots attending the event.
The £114.84 raised will be donated to the SSPCA in the New Year!
Practice Inspection
The practice was inspected by the Royal College of Veterinary Surgeons (RCVS) as part of their Practice Standards Scheme (PSS) in November. The PSS is a voluntary scheme, which practices can opt into. The RCVS says the scheme promotes and maintains the highest standard of veterinary care, and by being members and working to their set standards a veterinary practice is showing that they provide the highest standard of care for their patients and clients. The RCVS state that 65% of UK veterinary practices are members of the scheme, but it is not compulsary. On the scheme practices undergo an inspection every four years, and may be subject to spot checks in between (we have!)
There are three levels of PSS award: Core Standards, General Practice and Hospital. We have held GP status since our move to Moorpark House many years ago. We've hopefully retained our GP status for the next four years. We should receive our results in January. Keep your fingers crossed!
For more information about the Practice Standards Scheme please visit: https://animalowners.rcvs.org.uk/accredited-practices/about-the-practice-standards-scheme/
Cardiac Surgery
Back in June, Dr Chris Parratt (our cardiac and ultrasound consultant) performed some specialist cardiac surgery on a Miniature Dachshund puppy, Leia. Leia had an extra blood vessel (the Ductus Arteriosus) that should have closed over at birth. Chris opened up her chest and tied off the blood vessel to close it. The technical and tricky anaesthetic and procedure went well, with Dawn monitored the anaesthetic, and controlling Leia's respiratory rate by providing manual breaths. It was one of the most stressful anaesthetics of her career. Leia recovered well, and was quickly running about with her doggy siblings!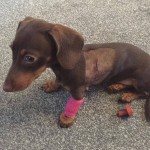 Leia, recovering from Surgery
New Year, New You
Have you thought of your New Year's Resolution? Perhaps to get finally put that expensive gym membership to good use and get fitter or lose some weight? Perhaps give healthy eating a try for a few weeks? Let's do the same for our four-legged family members!
Sally's Slimmers will be returning in January. Make an appointment for with her on Wednesdays, Thursdays or Fridays (or Monday/ Tuesday with one of our other RVNs) for a weigh in and tailored diet and exercise regime.
We also offer nurse clinics for our Geriatric patients (aged 8 and over), dental checks, puppy checks, parasite advice, pawdicures, and some more patient specific (diabetic clinics, or blood pressure clinics). Speak to one of our qualified nurses for more information.
Winter Hints & Tips
1. Antifreeze is extremely toxic to pets, especially cats. Mop up any spills immediately and seek veterinary advice if your pet has consumed or been in contact with antifreeze.
2. Never leave your pet in the car in cold weather.
3. Grit can irritate wee paws. Wipe your dogs feet after walking on gritted pavements/ roads. Cats should clean their own paws. Seek veterinary advice if paws become irritated.
4. Let your dogs winter coat grow. Puppies, oldies and short-haired dogs should wear a coat in the cold.
5. Keep dogs on a lead in heavy snow as snow is disorientating.
6.Consider a reflective collar or flashy collar for dogs and cats, or high-vis coat for dogs. Owners may also wear a high-vis coat, or some sort of light.
7. Frozen ponds are not ice rinks for dogs. The ice may not be thick enough to take their weight.
8. Snow can freeze between dogs paws causing ice blocks between pads which are uncomfortable and could cause difficulty walking. Another reason to clean and dry paws after walks.
9. Foods that are poisonous to our pets: bones, chocolate, Christmas pudding, grapes & raisins etc., peanuts, onions & garlic etc., mouldy food e.g. blue cheese, stuffing, onion gravy, alcohol.
10. Plants that are poisonous to pets: mistletoe, poinsettias, holly, ivy.
11. Other potential hazards: candles, silica gel, wrapping paper, tinsel, ribbon, string, small ornaments or decorations, cold & flu medications.
Adverse Weather
We had to close the practice for one day in March 2018 during the bad snowstorm. As yet we have been unaffected by bad weather this year, although there is still time! We hope the weather doesn't affect the opening of the practice the rest of winter, but snow has been forecast. If the event occurs we will be able to triage any illness or accident (within reason) by telephone, or email. We ask that you keep a good supply of your pet's prescription medication or diet over the winter period to be on the safe side
If in doubt please check the practice Facebook page for bad weather updates: https://www.facebook.com/campbellandgallowayvets
Pet Care Plan
We've had an increase in clients saving money on preventative healthcare by joining our Care Plan in 2019.
The Pet Care Plan, or PCP, is a monthly direct debit plan that spreads the cost of routine preventative treatments for example vaccinations, flea & worm treatments. Also included are two health checks with a Veterinary surgeon, two check ups with a qualified Veterinary Nurse, 25% off kennel cough vaccination, two anal gland expressions and two nail clips per year. Pet Care Plan members also receive discount on promotional offers (for example Fireworks month) and food or other items purchased from our 'shop' in reception.
On the plan, dogs receive a monthly Nexgard Spectra tablet (covers for fleas, ticks, worms and lungworm) and outdoor cats get a monthly Broadline spot-on (fleas, ticks and worms), although we can provide other products if better suited to patient.
Monthly Plan Fees
Small dog (under 10kg)
£11.50
Medium dog (10-20kg)
£12.50
Large dog (21-40kg)
£14.50
Giant dog (40kg+)
£16.50
Cat (indoor)
£8.50
Cat (outdoor)
£13.50
The Pet Care Plan spreads the cost over the year, but it is also a massive saving. In most cases it is cheaper to be on the plan than the cost of monthly flea/ worm treatment, meaning you effectively get your pet's annual booster vaccination for free! A lot of our clients say they feel they feel special when they don't have to pay on vaccine day!
Contact reception if you are interested in signing up to the plan, or phone Simplyhealth on 0800 169 9958.
Repeat Prescriptions
Please remember to order your pet's repeat medications and prescription diet in plenty of time before the holidays. We will receive one delivery between Christmas & New Year for those emergency items. The last date for ordering prescriptions/ diets before Christmas is Monday 23rd December.
Phone on 0141 445 6869 or email campbellandgallowaynews@hotmail.co.uk to place an order.
We'd like to thank all of our lovely clients for their continued support in 2019, and a massive thank you for all of the thoughtful presents we have received.
Happy Holidays from everyone at Campbell & Galloway Vets!!!
See all News | December 23, 2019 | 5:22 pm