Summer 2017 Newsletter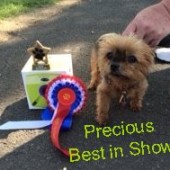 DOG SHOW
Following the success of our wee dog show at Govan Fair last June, we have decided to hold another event this year. We had planned to coincide with the Govan Fair, but this year's park event did not take place.
Our C&G Dog Show will take place on Saturday 16th September between 1 and 4pm, in Elder Park. Pop along and say hi if you're free on the day!
You can enter your dog in the following categories:
1- "Most like owner"
2- "Best trick"
3- "Golden Oldie"
4- "Fabulous Fella"
5- "Loveliest Lady"
6- "Best Junior Handler" Kids 5-14 years old
7- "Waggiest Tail"
8- Egg & Spoon Race (with dog on lead)
9- "Best Fancy Dress"
10- "Best Biscuit Catcher"
There will also be prizes for "Best in Show" and "Reserve Best in Show".
It costs £1 per category, with all proceeds being donated to the SSPCA.
Don't have a dog to enter? Come along and cheer on the participants.
Best in Show 2016- Precious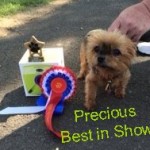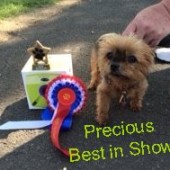 Reserve Best in Show 2016- Cosmo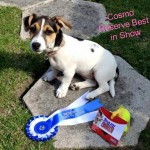 Hope to see you there!
We're also having a wee raffle, to be drawn on the day of the show. Tickets are £1 per strip, and are available on the day, or from the practice. Prizes include a Kindle Fire, some plonk, dog and cat toys/ treats, C&G vouchers and much, much more!
STAFF NEWS
Zoe has passed her third professional examination, and only has one year left at college. Congratulations Zoe!
CAT STUDY
We were asked to provide patients for a clinical study being undertaken by Vetmetrica, in collaboration with the University of Glasgow. We recruited 24 of our feline patients (8 healthy, 8 with signs of osteoarthritis and 8 with other chronic conditions e.g. diabetes). Each feline participant attended the surgery for 2-3 visits for examination, and their owner completed online surveys over a period of a few weeks.
We have now submitted the data we collected, and await the results of the study.
A massive thank you to everyone who took part!
CAMPBELL & GALLOWAY DOES…CHANGING ROOMS
Whilst Karen was on holiday, the C&G team gave the practice a makeover. The surgery was dismantled room by room, and given a lick of paint and a general update. Unfortunately, Karen returned back a day earlier than expected and caught the staff red handed (magnolia actually!), painting the prep room. She was so shocked and had to hide in her office until the tears stopped.
We think the whole practice looks brighter, don't you agree?
ORAL CARE
All Veterinary Surgeons and Nurses must undertake a set amount of Continuing Professional Development (CPD) each year- 45 hours for vets, and 15 hours for nurses (although our nurses usually outdo the vets!) This year, Dawn & Sally achieved an extra certificate in Oral Care Nursing as part of their CPD. The course included modules on tooth & gum anatomy, periodontal disease, treatment methods and preventative care. Both nurses achieved a high result. Well done girls!
Book your pet in for a FREE dental check with our qualified nurses.
SLIMMER OF THE YEAR- MOLLY
The "Slimmer of the Year 2017" award goes to Molly Borland!
Molly started seeing Sally in September 2016, when she weighed 8.8kg and had a body condition score of 10. Sally initially had a chat with Molly's family and formulated a strict diet regime. Molly also regularly attended the practice for weight checks, and constant feeding adjustments.
Molly also suffers from osteoarthritis, and receives daily medication for this. This made exercising Molly difficult. But after losing 3.5kgs, she is reaching new heights and leading a healthier and happier life style.
She's still attending "Sally's Slimmers" to ensure she maintains her weight.
SEPTEMBER 2016:
Weight- 8.8kgs
Body Condition Score-10
AUGUST 2017:
Weight- 5.3kgs
Body Condition Score- 5
TOTAL WEIGHT LOSS- 3.5KGS (the weight of an average cat).
– 40% of body weight loss
Well done to Molly & her owners (Sally too!) on such an amazing achievement!
If you think your pet is looking a bit podgy book them in to see Sally for a free weight consultation.
PET CARE PLAN
The Pet Care Plan, or PCP, is a monthly direct debit plan that spreads the cost of routine preventative treatments for example vaccinations, flea & worm treatments. Also included are two health checks with a Veterinary surgeon, two check ups with a qualified Veterinary Nurse, 25% off kennel cough vaccination, two anal gland expressions and two nail clips per year. Pet Care Plan members also receive discount on
promotional offers.
On the plan, dogs receive a monthly Nexgard Spectra tablet (covers for fleas, ticks, worms and lungworm) and outdoor cats get a monthly Broadline spot-on (fleas, ticks and worms), although we can provide other products if better suited to patient.
| | |
| --- | --- |
| Pet Size | Monthly Plan Fees |
| Small dog (under 10kg) | £11.50 |
| Medium dog (10-20kg) | £12.50 |
| Large dog (21-40kg) | £14.50 |
| Giant dog (40kg+) | £16.50 |
| Cat (indoor) | £8.50 |
| Cat (outdoor) | £13.50 |
The Pet Care Plan spreads the cost over the year, but it is also a massive saving. In most cases it is cheaper to be on the plan than the cost of monthly flea/ worm treatment, meaning you effectively get your pet's annual booster vaccination for free!
Contact reception if you are interested in signing up to the plan, or phone Simplyhealth on 0800 169 9958.
PETPLAN AWARDS
We were all so humbled to be nominated in our respective categories for the Petplan Vet Awards 2017. We would like to thank the clients who voted for us. It is so lovely to be recognised for our hard work.
Our nurses were also nominated for the "Thank a Vet Nurse" award. They were shortlisted after Karen wrote them a glowing report, but ultimately missed out on the prize.
Have a read at Karen's submission:
"We have the loveliest team of veterinary nurses : without whom the practice just wouldn't work as smoothly, efficiently and happy as it does ! The clients love coming in to see them : and often just drop in to hand over carrot cake / biscuits / chocolates so we have a never ending supply of goodies to go with our cuppa tea every morning . Dawn , Sally and Zoe make our surgery a happy place to come to work : and they boost everyone's spirits when things are more demanding and offer not only client support and great customer care without thinking that they need to do that : but they are warm and helpful to all the team members . They made me cry with happiness when I returned from a short break : only to discover that they painted the practice !! They wanted a spring refresh and got the other vets and even the vet students seeing practice to lend a helping hand ! All they wanted nothing in return ! They keep the practice buoyant with their energy and positivity: I absolutely adore them and so do the clients and all the other vets !! We love you guys !! Xxx Karen Campbell"
See all News | September 15, 2017 | 11:53 am