Winter Newsletter 2016
CHRISTMAS OPENING TIMES:
Friday 23rd Dec- OPEN as normal
Saturday 24th Dec- OPEN 9am-1pm
Sunday 25th Dec- CLOSED
Monday 26th Dec- CLOSED
Tuesday 27th Dec- OPEN 9am-4pm
Wednesday 28th Dec- OPEN as normal
Thursday 29th Dec- OPEN as normal
Friday 30th Dec- OPEN as normal
Saturday 31st Dec- OPEN 9am- 1pm
Sunday 1st Jan- CLOSED
Monday 2nd Jan- CLOSED
Tuesday 3rd Jan- OPEN 9am-4pm
From Wednesday 4th Jan onwards- normal opening hours.
In case of emergency please contact either:
VETS NOW (Charing Cross)
0141 332 3212
Or
SMALL ANIMAL HOSPITAL (Bearsden)
0845 850 2080
Staff News
In October we said goodbye to our Vet Jill, as she moves onto pastures new. Jill worked at C&G for 5 years, and we wish her all the best in her new venture.
Which means we have a few new (but not that new!) faces…
Rhona
Rhona graduated from Glasgow University over 20 years ago. You may recognise her as she used to locum for us years ago. She qualified as a veterinary acupuncturist in 2000, and will be offering that service at C&G. Rhona will be working 4 days a week (plus 1 in 3 Saturdays). Outside of work, Rhona is kept busy with her two young children, and her "wee broon dug" Evie.
Debbie
Debbie also used to locum for us a few years ago. She graduated from Glasgow University 15 years ago, and has just returned to the world of Veterinary Medicine after having her first baby last year. She will be joined at work by Abbie, her bouncy wee dog.
Debbie is working with us two days a week (Tuesday & Friday), as well as being on the Saturday rota.
Everyone else…
Kirsten
Kirsten returned from maternity leave in June, and is back working Monday & Tuesday (plus the Saturday rota). She's happy to be back and enjoying the break from her kids!
Karen
Karen is still consulting a few days a week, but is doing more administrative work. Don't worry- she's not going anywhere!
Zoe
Zoe started Veterinary Nurse training at College of Animal Welfare in September. She's been attending college Monday- Wednesday, and working Thursday & Friday. At the start of December she passed the first of her exams. Well done Zoe!
Sally
Sally became Mrs King in August, and is settling into married life. She started weight clinics this year, and is getting some great results! More information on her weight clinics to follow.
Dawn
Sally says "Dawn's trying her best to keep everyone in line and ensuring the clients are happy". Don't know how good a job I'm doing!
It's been a busy year at C&G. Here's a run down of what we've been up to:
GOVAN FAIR
We attended the annual Govan Fair in June, and hosted a wee dog show on the Saturday afternoon, in Elder Park. It was a very popular event, but that might have been due to our pitch (between the burger van and the ice cream van!)
We had various categories including:
1-     "Most like owner"
2-     "Best trick"
3-      "Golden Oldie"
4-     "Fabulous Fella"
5-     "Loveliest Lady"
6-     "Best Junior Handler"
7-     "Best Fancy Dress"
8-      BEST IN SHOW
Each medallist (1st, 2nd & 3rd place) won a toy and rosette, and each participant received a bag of treats.
Precious travelled from Renfrew for the dog show and left with Best Overall!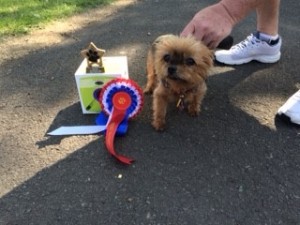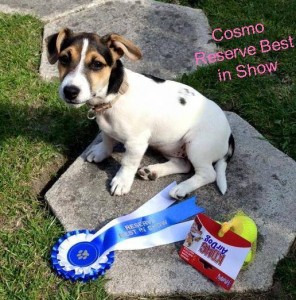 Our dog show was such a success we've been asked back for 2017. We've even been given the main stage!
Get practising those tricks & catwalk struts!
CLIENT CHRISTMAS EVENING
Last week we held an open evening/ Christmas party. Clients had the chance to meet the new vets, play some silly games (Pin the Tail on Huxley!) and have a few, light refreshments. Thanks to everyone who attended.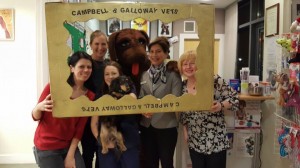 "GOVAN LOVES CHRISTMAS"
We were asked to attend Govan Loves Christmas for the first time this year. It's an annual event with music, fairground attractions, stalls and the switching on of the local Christmas Lights. We took along a home-made Photo booth and allowed the local kids (and parents) to dress up as vets, or pose with the C&G dog. We also raised £100 for the SSPCA by selling tickets for our Christmas Raffle.
The C&G dog had the best night of it's life- meeting celebrities (Boaby from Still Game, Elsa & Olaf from Frozen), posing in hundreds of photographs and even having a shot on some fairground rides!
We've yet to name the C&G dog, perhaps we'll hold a wee competition in the New Year?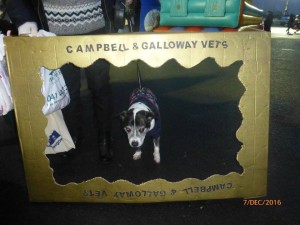 WEIGHT CLINICS
Sally started weight clinics earlier this year, and she's already had great success, with every slimmer losing weight. The awards for "Sally's Slimmer of the Year" go to Cotton and Molly.
Cotton is a six year old, Maltese. She suffers from Cushing's, which is an endocrine disease that lists weight gain as one of its clinical signs. Cotton's weight gain was so severe that she was almost put to sleep. But in September 2016 she came to C&G Vets, and Sally put her on a STRICT diet. Four months on and Cotton has lost over 2kg bodyweight, shrinking from 9.2kg to 6.6kg, and her Cushing's disease is back under control. She's even running about like a puppy again! Check out her before and after photos: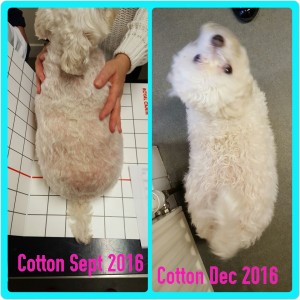 Molly is a ten year old Domestic Shorthaired cat with a weight issue. We've tried various prescription weight loss diets in the past, and although she'd initially lose weight, it would plateau after a few months. Sally started Molly on her current regime in August 2016, and has slimmed to 6.9kg from 8.8kg! The weight loss has significantly helped her osteoarthritis. Look at the difference!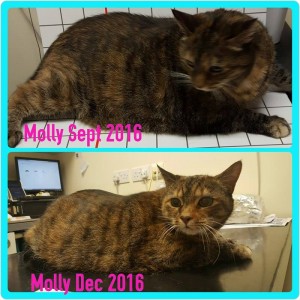 Congratulations Cotton & Molly (and their families)!!! We wish them best of luck reaching their target weights next year!!
If you think your pet could do with losing a few pounds, make an appointment with Sally in the New Year.
PUPPY PARTY
We've had a few intakes for Puppy Party this year.
Although puppy party is more for socialisation (with other dogs, people and the practice) we try to work on a few basic commands.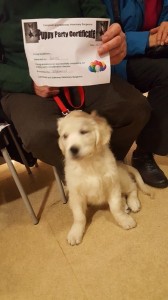 Whilst the puppies are playing, we have the opportunity to talk to the owners about pet care and give health advice. This also allows the owners to chat, swap tips and give each other some moral support. AND we get to play with puppies for an hour each week!!!
Out next Puppy party cohort are due to start Mid-January. Contact the practice if your puppy (or someone you know) would like to attend.
CHRISTMAS RAFFLE
We were running a raffle in aid of Scottish SPCA. Prizes were kindly donated by veterinary pharmaceutical representatives, and local businesses. Prizes include 2 x £50 Slaters vouchers, 4 x £10 Amazon vouchers, various C&G vouchers, Cadburys bundles, wine/ prosecco, chocolates and hunners of dog & cat toys/ treats.
The draw was a great success, and all winners have been contacted, sorry if you missed out!
We'll let you know how much we've raised for the SSPCA in the next newsletter! I'm sure that between the dog show and the raffle it'll be a generous total. Thank you to everyone who donated/ contributed!
MERRY CHRISTMAS & HAPPY NEW YEAR FROM EVERYONE AT CAMPBELL & GALLOWAY VETS!
A MASSIVE THANK YOU TO EVERYONE FOR YOUR CONTINUED SUPPORT!
See all News | December 23, 2016 | 5:21 pm