Veterinary Surgeon- Karen (BSc BVMS & MRCVS)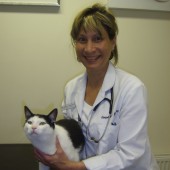 Karen is the Principal Partner of Campbell and Galloway and has been with the practice over 20 years. She achieved a degree in Zoology before qualifying from Glasgow University in Veterinary Medicine and Surgery. Karen has a Lhasa Apso called Nigel who sometimes comes in to visit and make sure we are doing everything right! Nigel recently acquired a cheeky little brother called Huxley, who is a long-haired minature Daschund.
Being born in South America and raised in Trinidad Karen is well-travelled. Although settled in Glasgow with her family she still brings her friendly and welcoming Caribbean personality to work.
See all Staff | May 19, 2021 | 1:01 pm