Receptionist- Emma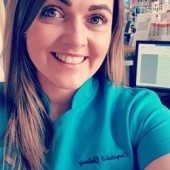 Our receptionist, Emma, joined our team in June 2018. She currently works 4 days a week.
Emma graduated from Barony College in Dumfries with a HND in animal care in 2007. She has worked with animals in various positions including animal care assistant and animal rescue officer for the the Scottish SPCA.
She has a little scottish terrier called Crannah who she loves to go hill walking with.
Her claim to fame is she once dog sat 3 dogs and 1 cat belonging to Shirley from Eastenders for an entire month!
Emma is also a qualified dog groomer.
Emma is currently on maternity leave. She became mummy to Conan in September 2021.
See all Staff | May 19, 2021 | 12:30 pm