Veterinary Nurse- Nikki BSc (Hons) RVN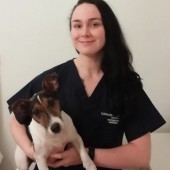 Nikki graduated from Edinburgh Napier University with a BSc (Hons) in Veterinary Nursing in July 2019. She's been a regular face at Campbell & Galloway since 2014, firstly gaining experience on Saturday mornings and then whilst on placement from university.
Nikki loves surgery- from preparing to assisting and monitoring patients post-operatively. She also has an interest in critical care nursing and phlebotomy.
Nikki is owned by a Jack Russell Terrier named Ozzy. He occasionally comes to work with Nikki, but he prefers the unemployed life.
See all Staff | May 19, 2021 | 12:40 pm