December 2014 Newsletter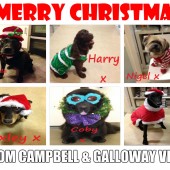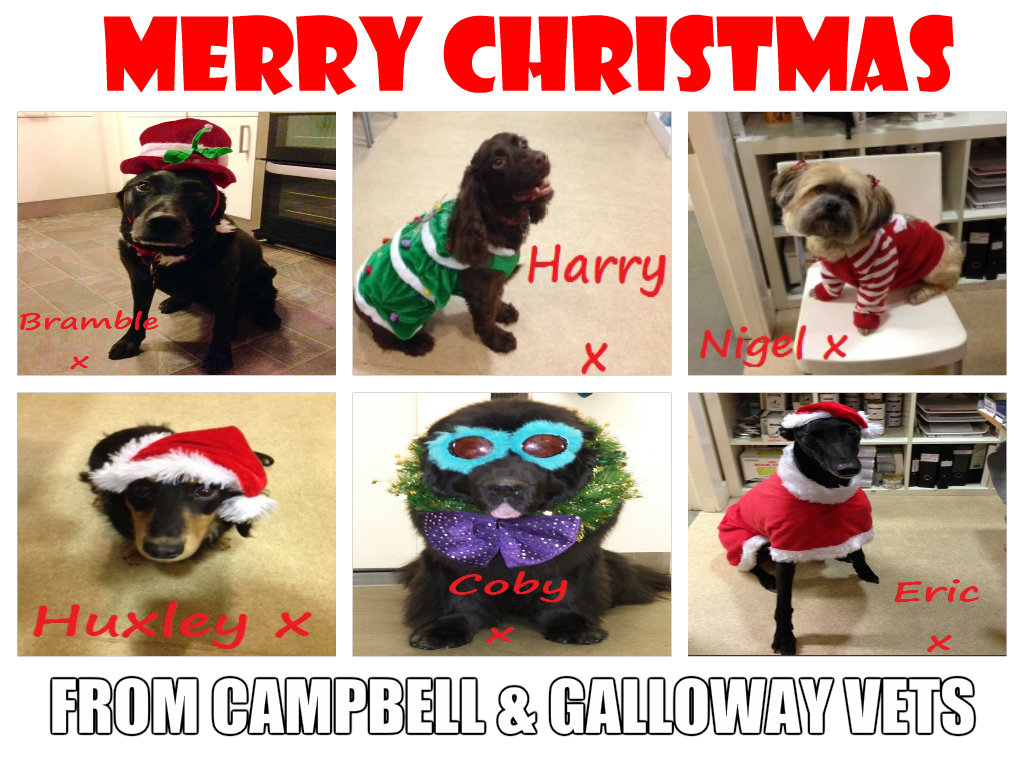 Our holiday opening times:
Mon 22nd December – Normal hours
Tue 23rd December – Normal hours
Wed 24th December- 9am- 4pm
Christmas day – CLOSED
Boxing day – CLOSED
Sat 27th December – Normal hours
Mon 29th December – Normal hours
Tue 30th December – Normal hours
Wed 31st December- 9am- 4pm
New Year's Day – CLOSED
2nd January – CLOSED
Sat 3rd Jan- Normal hours
If we are closed and you need to speak to a vet, please phone Pets A&E on 0141 429 3800.
Due to Pets A & E currently being based in East Kilbride, if transport is a problem, you may also go to Vets Now. They are based on North Street, at Charing Cross. You can contact Vets Now on 0141 332 3212.
"Winter-proof" Your Pets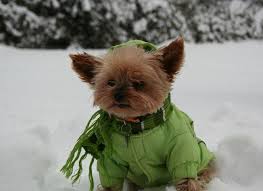 As the nights get darker and the days get colder, it's not just us that feel winter setting in. Here are a few hints & tips for keeping your pet safe, warm & healthy this winter.
Weight– The long hikes of the summer are a distant memory, and your cat or dog may be less keen to exercise/go outdoors now that it's cold, rainy & dreich.  As a result it's a good idea to monitor your pet's weight, and reduce the amount of food you are giving, as they aren't burning off as many calories as they would in the summer.
Accessories– although some breeds love the winter weather (e.g. huskies), most of our pets, especially the short-haired breeds) feel the cold. Also, as dogs get older the feel the cold more. You may want to consider buying a nice, comfy coat for you dog if they spend lots of time outside, or standing still in the cold. Another thing to consider is a flashing light to attach to your dog's collar or fluorescent jacket to make them easier to spot. We would also recommend making sure your pet's identity tag and microchip are up to date to increase the chances of being reunited if your pet should go missing.
Paw care – it is a good idea to check your pet's paws after they have been outside. The chemicals used in grit etc can be irritant to the soft pads of the paws. You could wipe paws after walks.

Anti-freeze poisoning – Cats are drawn to sweet smelling and tasting ethylene glycol (antifreeze).  Unfortunately this is a poisionous substance.  The signs of antifreeze ingestion can include wobbling, staggering, back pain, vomiting and increased thirst.  Ethylene glycol ingestions causes kidney failure and can unfortunately often lead to death.  Please call a vet immediately if you suspect anti-freeze poisoning.
Hot spots– our pets, cats especially, love finding a warm, cosy area to curl up for a nap e.g. in front of radiators or fires. Protect your pets from fires and check for burns. Other warm areas to consider are under cars and wheel arches – bang on your bonnet before driving away to disturb sleeping animals.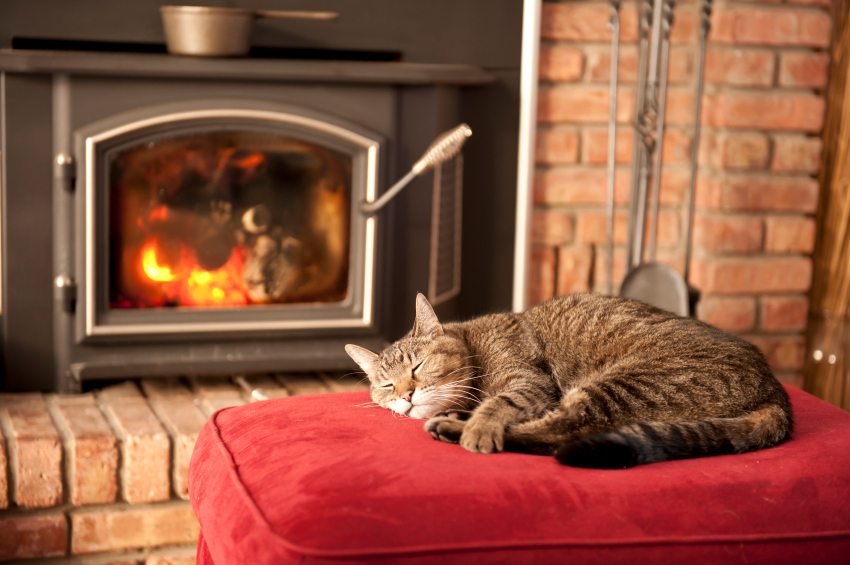 Aches and pains– arthritis may be aggravated by cold weather. Ensure your pet has a nice, cosy bed and a coat for going outdoors.
Stress– Christmas can be a stressful time for pets (cats especially). Strange items appearing in the house (Christmas trees, decorations, presents), loud noises or strangers visiting may cause stress. To reduce stress levels provide a warm, cosy place to hide. You may also consider products including Feliway, Adaptil, Calmex etc to reduce festive stress.
Outdoor Pets – any pets kept outside including Guinea Pigs, rabbits etc need extra care in winter time.  If they cannot be moved indoors. (which should be done gradually if you do have the space to move them in), you should ensure their hutch is waterproof, draught-proof, well-ventilated, clean and dry.  Additional bedding including dust-free hay, straw and newspaper layers can help.  Avoid blankets as they will often just chew them up which can lead to a blockage in their intestines.  You could also use a commercially available microwave heat pads.  Just like other pets ensure they are still getting plenty of exercise and lots of fresh food, and when the temperature drops make sure their water doesn't freeze!
Common Christmas Poisons
We all like to treat our families at Christmas, and that includes our pets. Many owners admit to feeding their pets Christmas dinner. So what harm can it do? We see an increasing amount of stomach upsets over the holiday period. The food on our dining tables (or under the tree) can cause vomiting, diarrhoea or worse.
Foods to avoid:
Bones
Chocolate
Christmas pudding
Grapes, raisins etc
Peanuts
Onions, garlic etc
Mouldy food e.g. blue cheese
Stuffing
Onion gravy
Alcohol
Poisonous Plants:
Mistletoe
Holly & Ivy
Poinsettia
Non-seasonal flowers e.g. lilies
Other potential hazards:
Candles
Silica gel
Wrapping paper, tinsel, ribbon, string
Small decorations
Anti-freeze
If you suspect your pet has eaten something bad…
Phone us immediately!
Bring the product's packaging with you if possible.
Staff News
Jade has passed her final exams at college, and is now a fully qualified Veterinary Nurse. Congratulations Jade Registered Veterinary Nurse (RVN)!!!
Repeat Prescriptions
Is your pet on medication or a special diet?  Please ensure you have enough to last over Christmas & New Year, as our suppliers will not be making deliveries as often over the holidays.
Thank you!
We'd like to thank everyone for their kind cards & gifts.  Thank you!
Christmas Shop
Don't forget your pets this Christmas! We have stocked some special Christmas-themed presents, as well as our usual treats and toys.
Portly Pets Clinic
An abundance of food over the holidays can add to our waistline and this is also the case for our pets! Donna, Jade & Dawn will be running free weight clinics in the New Year, so call for an appointment.
New Arrivals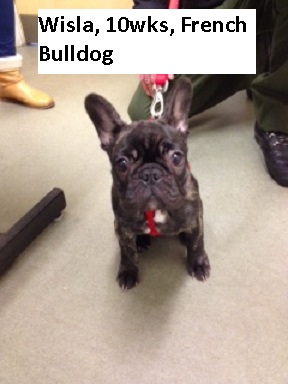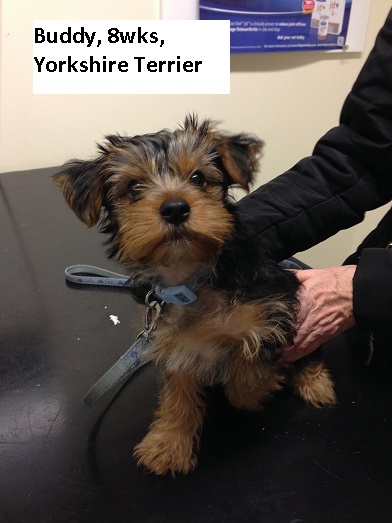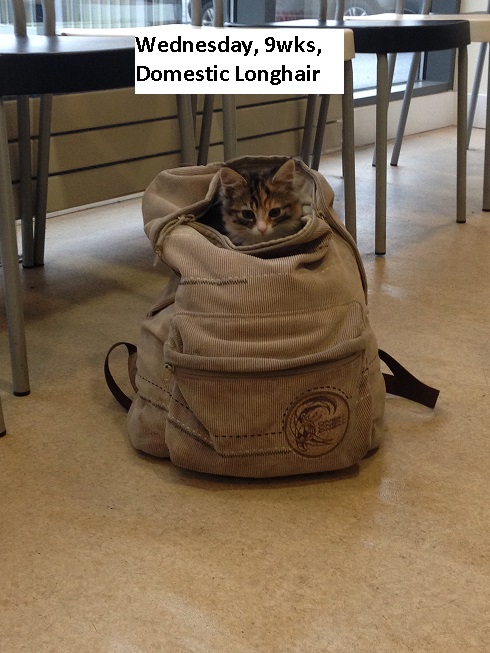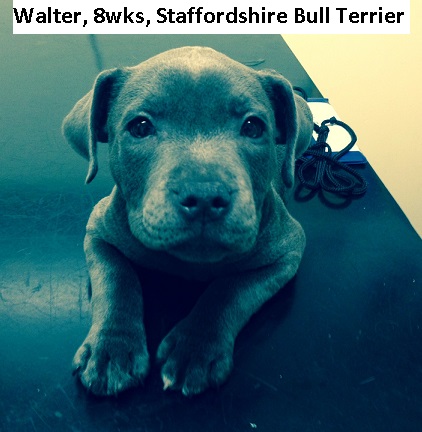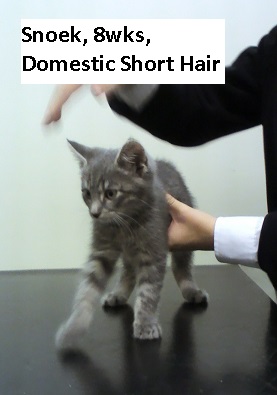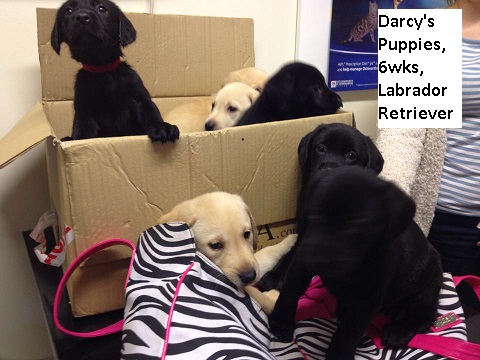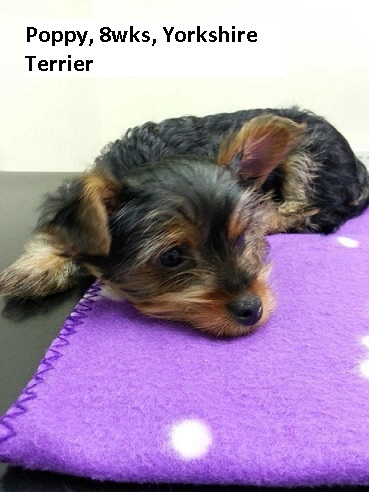 CAMPBELL & GALLOWAY
VETERINARY SURGERY
TEL:  0141 445 6869
campbellandgallowaynews@hotmail.co.uk
http://www.campbellandgallowayvets.co.uk/
www.facebook.com/campbellandgallowayvets
See all News, Newsletters, Uncategorized | December 22, 2014 | 10:10 am