Veterinary Nurse- Zoe RVN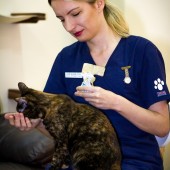 Zoe joined our team in April 2015 and quickly settled in with her bright and friendly attitude. Zoe has a wealth of experience working with animals having worked at the PDSA and the Veterinary Centre in Uddingston as a qualified Veterinary Care Assistant. Zoe trained at Campbell and Galloway Vets and qualified as a Registered Veterinary Nurse in August 2019.
Zoe enjoys running and cycling as well as knitting and drawing.
Zoe is owned by a Greek rescue cat, Nera, and has shares custody of family dog Miniature Daschund, Poppy, with her sister.
See all Staff | October 11, 2019 | 1:25 pm