Head Veterinary Nurse- Dawn BSc (Hons) RVN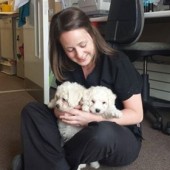 Dawn graduated from Edinburgh Napier University in 2010 with an honours degree in Veterinary Nursing. After working at various small animal practices in Glasgow including People's Dispensary for Sick Animal (PDSA) we were excited to welcome our former nursing student back to Campbell and Galloway in June 2011.
As of 2015 Dawn has become our Head Nurse and is doing her best keeping all the staff in line! She spreads her time between clinical work, mentoring the student nurses and lots of paperwork!
See all Staff | October 11, 2019 | 1:36 pm