Veterinary Surgeon- Sophie (BVMS & MRCVS)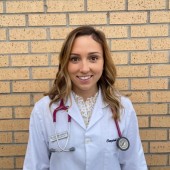 Sophie graduated from Glasgow University in June 2020, and joined Campbell & Galloway in August 2020.
Sophie loves meeting new clients and their pets. She is keen on ultrasounds and recently completed a course in ultrasonography- she's often found practising with our new ultrasound machine! Sophie also loves surgery and the management of patients with long-term illnesses such as diabetes.
In her spare time, Sophie is a frequent gym goer and loves outdoor activities, but she also likes to shop and socialise!
See all Staff | May 19, 2021 | 12:50 pm