Student Veterinary Nurse – Zoe Hamilton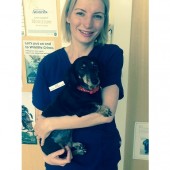 Zoe joined out team in April 2015 and quickly settled in with her bright and friendly attitude.
Zoe has a wealth of experience working with animals having worked at the PDSA and the Veterinary Centre in Uddingston as a qualified Veterinary Care Assistant and will work towards her Registered Veterinary Nurse qualification with us here at Campbell and Galloway Vets.
Zoe enjoys running and cycling as well as knitting jumpers for her Miniature Daschund Poppy.
Huxley, Karen's Miniature Daschund, loves when Poppy comes to visit, but Poppy isn't quite as convinced with her new toyboy!
See all Staff | April 29, 2015 | 11:11 pm