Veterinary Nurse- Sally RVN ISFMCertFN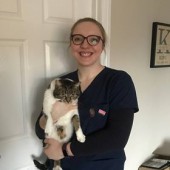 Sally started with us in August 2015 and originally hails from Brora in the Highlands of Scotland.
Sally qualified as a Veterinary Nurse from North Highland College in 2012, and has worked at various Glasgow practices since.
She is a self-confessed "crazy cat lady" and has just completed her certificate in Feline Friendly Nursing.  
Sally has two lovely moggies Erin and Alba. She is currently on Maternity leave after the birth of Daniel in March 2019, but will be returning in 2020.
See all Staff | October 11, 2019 | 1:34 pm