Veterinary Nurse- Nikki BSc (Hons) RVN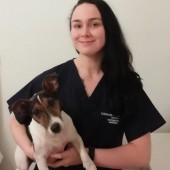 Nikki graduated from Edinburgh Napier University with a BSc (Hons) in Veterinary Nursing in July 2019. She's been a regular face at Campbell & Galloway since 2014, firstly gaining experience on Saturday mornings and then whilst on placement from university.
Nikki loves surgery- from preparing to assisting and monitoring patients post-operatively. She also has an interest in critical care nursing and phlebotomy.
For now, she's covering Sally's maternity leave and gaining more experience, but in the future she'd like to work in a more specialised field as a surgical nurse or intensive care nurse in a referral centre. She'd also like to travel and work as Veterinary Nurse in different countries.
Nikki is owned by a Jack Russell Terrier named Ozzy. He occasionally comes to work with Nikki, but he prefers the unemployed life.
See all Staff | October 11, 2019 | 1:29 pm